This article is under development. If you can, please add to the page.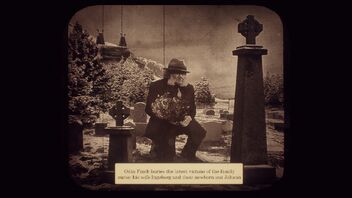 Introduction
Edit
Odin Finch (ˈodən ˈfɪntʃ | Oedin Finch) was the eldest member of the Finch family.
Little is known about this character as the player does not play through him but rather Edith learns about him through a device in Edie's room.
Edith also learns about her family's curse, a curse that supposedly makes all members of her family die before their time, as Odin decided to move his daughter Edie, his son-in-law Sven, and his granddaughter Molly away from their home country of Norway after Odin's wife and newborn son become the newest victims.
Odin packs up the remainder of his family and his house and sails away from Norway in hopes of finally being away from the Finch family curse.
On the way, very high waves crash the boat, killing Odin and sinking the house.
Edie's husband, Sven, builds a new home for his wife and newborn daughter, Molly, on the shore they land on. Odin is said to be the first buried in the new family cemetery.