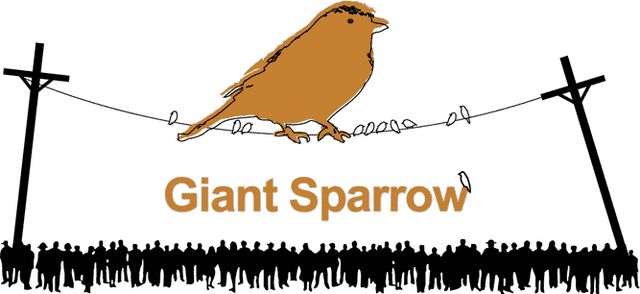 Description

The front page logo of Giant Sparrow

Author

Source

Modifications

Loseless compression

Licensing

The picture above depicts work from a copyrighted medium. The owner of said copyright is Giant Sparrow. The individual(s) who have uploaded this image to the wiki to make use of it on its articles assert it qualifies as fair use given that

Its use is non-commercial and/or non-profitable
Its use does not impede the copyright holder(s) ability to sell the material significantly.
The material is largely unaltered, and any editing that has taken place is for cosmetic or display purposes.

For more information, see FANDOM's disclaimers regarding the material to be used in the domain.

Additional Info

The logo is used on the article documenting the game company and intends to remain as a large image for the top of the respective page. Another version of this logo may need to be uploaded if it is to be used elsewhere outside of the subject's page or in an appropriate gallery slideshow.
Appears on these pages

of
This article is under development. If you can, please add to the page. "Giant Sparrow" is an...
File history
Click on a date/time to view the file as it appeared at that time.
Metadata
Ad blocker interference detected!
Wikia is a free-to-use site that makes money from advertising. We have a modified experience for viewers using ad blockers

Wikia is not accessible if you've made further modifications. Remove the custom ad blocker rule(s) and the page will load as expected.